Immerse yourself in the Spanish culture as you visit Andalusia and Madrid Tour! Visit the most iconic monuments of Granada and Córdoba in the south as well as of Toledo, Madrid, and Segovia to the north; such as the Alhambra, the Mezquita, and the Alcázar.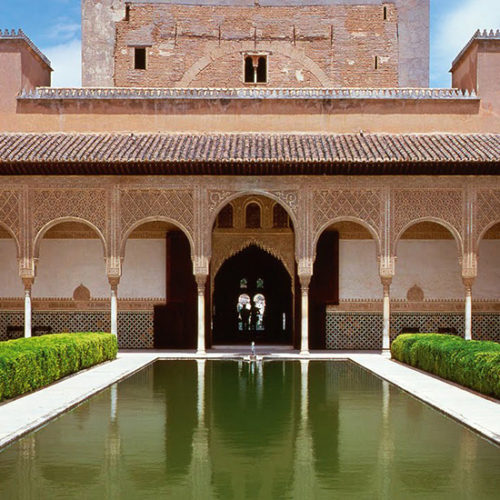 Andalusia and Madrid Tour
DAY 1: USA | SPAIN
Fly overnight to Málaga, Spain.
DAY 2: MÁLAGA | GRANADA
Bienvenidos a España! Your Spanish Forum Tour Manager will greet you at the airport and help you board your private bus to Granada.

Check in to your hotel and enjoy some free time to freshen up and relax.

This afternoon, visit the Cathedral and La Capilla Real.

Dinner and night accommodation in Granada.
DAY 3: GRANADA | CÓRDOBA
After breakfast, enjoy a guided visit of the magnificent Alhambra Palace.

Explore the Generalife gardens and visit the Palacio de Carlos V.

Visit the Albayzín Quarter before enjoying lunch near the cathedral.

This afternoon, visit the Cathedral and La Capilla Real.

Then, travel to Córdoba, one of the greatest centers of art, culture and learning in the Western World during the Middle Ages.

Dinner and night accommodation in Córdoba.
DAY 4: CÓRDOBA | SEVILLA
After breakfast, pass through the Plaza de la Corredera where local vendor´s line up with the day´s free produce.

Enjoy a guided visit of the Mezquita, an 8th century mosque and one of the most beautiful examples of Spanish Muslim architecture.

Next, discover the Jewish Quarter.

Enjoy some free time for lunch and a chance to explore Córdoba´s colorful patios filled with flowers.

Board your private bus to your next destination – Sevilla. Besides being Andalusia´s capital city and rich with Moorish heritage, Sevilla is also known as the birthplace of Flamenco and the city where the most amazing Easter processions take place.

Dinner and night accommodation in Sevilla.
DAY 5: SEVILLA
Have breakfast at your hotel.

Meet your local guide who will help you make the most out of your visit by providing you with details, highlights, and insights.

Get ready to explore the historical and artistic point of view of the city as you enjoy a walking tour. Discover the most spectacular monuments, shopping district, and the maze of narrow streets and alleys of the Barrio Santa Cruz.

Visit the magnificent Catedral de Sevilla, the largest gothic cathedral in the world and the claimed resting place of Christopher Columbus. Climb to the top of the Giralda Tower, originally constructed as a minaret during the Moorish period, for spectacular views of the city. -Discover Plaza de España, a semi-circular brick building with a mixture of Baroque, Renaissance and Moorish styles, located inside Plaza Maria Luisa.

Discover the rhythm of Andalusian culture during a guided tour of the Museo del Baile Flamenco, then watch the professionals in action during a traditional flamenco performance. -Learn more about this Spanish art as you participate in a private flamenco class.

Enjoy a meal with your group in a local restaurant.

Night accommodation at your hotel.
DAY 6: TOLEDO | SEGOVIA | MADRID
After breakfast, board your private bus and depart for Segovia.

On arrival, meet your local guide and visit the Alcázar, the Roman Aqueduct and Las Iglesias Románticas.

Have lunch at Casa Cándido in the early afternoon before traveling to Madrid.

On arrival, drop your bags at your hotel before exploring the city with your Forum Tour Manager.

Visit the Puerta del Sol, the lively epicenter of Madrid which is home to countless shops and restaurants.

Complete your day with some tapas at Mesón Rincón de la Cava.

Night accommodation in Madrid.
DAY 7: MADRID
After breakfast, meet your local guide and visit the Museo del Prado and admire its collection of Spanish paintings. See masterpieces by Goya and Velázquez, including Las Meninas.

Later, explore the Museo Reina Sofía, home to works of art from the 20th century including Picasso´s masterpiece, Guernica.

After some free time for lunch, visit the Palacio Real. With 3000 rooms, this royal residence is twice the size of Buckingham Palace.

Tonight, enjoy a paella dinner

After dinner, explore the Plaza Mayor.

Later in the evening, enjoy some chocolate and churros at the Chocolatería San Ginés.

Night accommodation in Madrid.
DAY 8: MADRID
After breakfast, take a guided bus tour of Madrid.

See Plaza de España, Plaza del Descubrimiento, Plaza Colón, Estación Atocha and the Cuatro Torres Business Area.

Have lunch on your own and enjoy some free time at Parque del Retiro and Café Gijón.

This afternoon enjoy a guided tour of Estadio Santiago Bernabeu, home of the world-famous soccer team, Real Madrid.

This evening for your farewell meal enjoy a flamenco dinner show!

Night accommodation in Madrid.
DAY 9: RETURN TO THE USA
After breakfast, transfer to the airport for your flight home.
What's included
All-inclusive pricing makes it easy for teachers,
parents, and students. This trip includes:
Private group tour
Expert local guides

24-hour
emergency support
Personalized itinerary
Centrally-located hotels
Comprehensive
Travel insurance
Tour Manager 100%
dedicated to your group
Authentic meals
Airfare & ground
transportation
What our teachers are saying

Forum was very professional and flexible in allowing us to design the program that met our needs. I recommend them!
Need some guidance?
Our tour experts love helping teachers. They're here to listen to your ideas, create the perfect itinerary for your group, and guide you in every step of the process.