Immerse yourself in the French culture through a school exchange in Lyon! Enjoy a day trip to Annecy, the beautiful Alpine town called the "Venice of the Alps" and end the tour with a visit to Paris and its most iconic spots such as the Eiffel Tower, Notre-Dame Cathedral, and the palace of Versailles.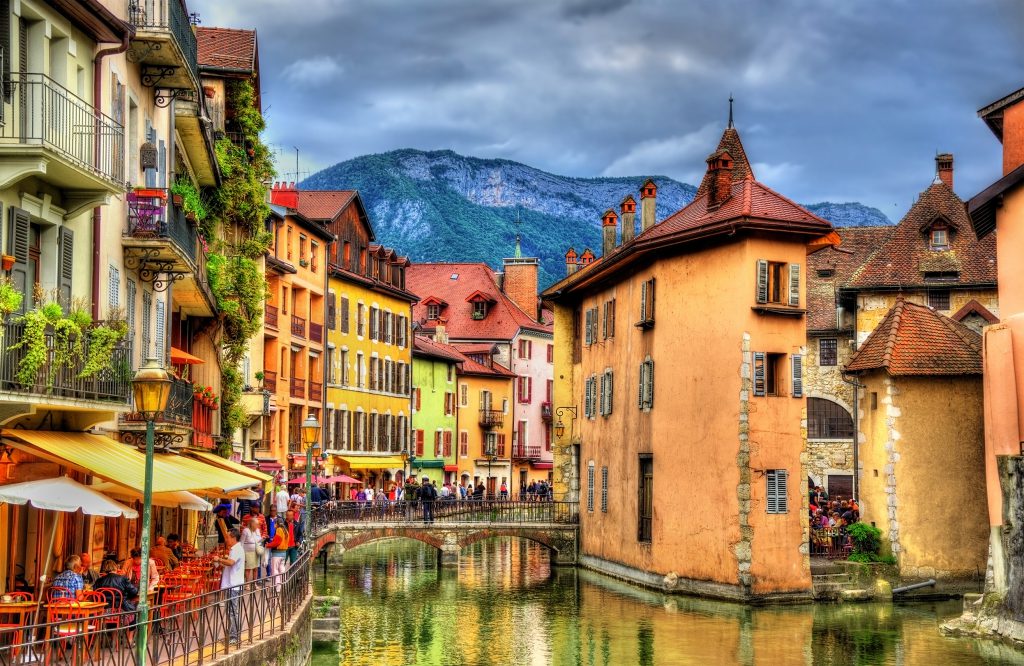 School exchange in Lyon
DAY 2: LYON
Bienvenue en France! Upon arrival, board your private bus to your partner school.

Meet your exchange partners and host families and start your exchange program. While living with a host family, you will discover that French is more than just a textbook language as you fully immerse into the daily life of your family and school community. You will attend school with your exchange partner, apply your language skills in real-life situations, and experience life as a true local!

Dinner and evening with your host family.
DAY 3: SUNDAY IN FAMILY
Spend the day getting to know your exchange partner and host family.
DAYS 4 – 6: EXCHANGE PROGRAM
After breakfast with your host family, attend school with your exchange partner.

Afternoon activities and workshops may be organized at the school during your visit (to be confirmed with your partner school).

Dinner and evening with your host family.
DAY 7: DAY TRIP TO ANNECY
This morning, board your private bus and set off on a day excursion to Annecy, a strikingly beautiful Alpine town, also called the 'Venice of the Alps'.

lorem Meet your local guide and explore the gorgeous Vieux Annecy. See the Palais de l'Ile, the Château, and the Porte Sainte-Claire.

Have some free time for lunch.

Then, walk through the Jardins de l'Europe, and continue along the lake to admire the beautiful surroundings.

Return to your host family for dinner.
DAY 8: EXCHANGE PROGRAM
Attend school with your exchange partner.

Dinner and evening with your host family.
DAYS 9 – 10: WEEKEND IN FAMILY
Enjoy a relaxing weekend with your exchange partner and host family.
DAY 11: LYON | PARIS
Today, say a fond "au revoir!" to your exchange partners and board your train to Paris.

Upon arrival, your Forum Tour Manager will greet you at the train station and remain with you throughout your tour.

Stroll down the most famous avenue of the capital, the Champs-Elysées.

Walk through the Trocadéro and view "la Ville Lumière" from the third floor of the Eiffel Tower.

Afterward, enjoy a refreshing cruise on the Seine River.

Dinner at a typical brasserie parisienne.

Night accomodation in Paris.
DAY 12: PARIS
This morning, explore the Quartier Latin, see the Pantheon and stroll through the Jardins du Luxembourg.

Discover the Sorbonne University. In 1253, a college for 16 students who wanted to study theology was created at Louis IX's request. Today, it's one of the oldest and most famous universities in France.

Later, visit a local boulangerie and choose from one of their mouth-watering sandwiches for lunch.

Head to Île de la Cité to see the iconic Notre Dame Cathedral.

Then, discover the Opera Garnier, the inspiration for Leroux's The Phantom of the Opera.

Later in the afternoon, head up to the highest point in Paris, Montmartre. Climb the steps to reach the Sacré-Cœur, Montmartre's hilltop church and most famous landmark.

Enjoy a musical dinner in Montmartre.

Night accommodation in Paris.
DAY 13: PARIS | VERSAILLES
This morning after breakfast, take the train to Versailles Palace, the extravagant residence built for the Sun King.

Enter the Château and walk in the footsteps of Louis XVI and Marie-Antoinette. Then, enjoy a picnic lunch before wandering around the elegantly landscaped gardens.

Later, return to Paris and take a guided tour of the Institut du Monde Arabe. The museum encompasses the cultural, religious, social, and anthropological dimensions of the Arab world past and present.

Have dinner at a local restaurant.

Night accommodation in Paris.
DAY 14: DEPART
After breakfast, board your private bus with your Forum Tour Manager and transfer to the airport for your return flight home.
What's included
All-inclusive pricing makes it easy for teachers,
parents, and students. This trip includes:
Private group tour
Expert local guides

24-hour
emergency support
Personalized itinerary
Exclusive school-exchange program
Comprehensive
Travel insurance
Tour Manager 100%
dedicated to your group
Authentic meals
Airfare & ground
transportation
What our teachers are saying

Thank you for a wonderful experience Forum!! We are grateful for making this exchange possible and partnering schools across the globe. Giving students authentic cultural homestays is a gift of a lifetime.
Need some guidance?
Our tour experts love helping teachers. They're here to listen to your ideas, create the perfect itinerary for your group, and guide you in every step of the process.