Discover Zaragoza through a school exchange with a host family! Then, spend two nights in Madrid and discover the capital's most iconic monuments and the neighboring city of Toledo. End your trip with a staple of traditional Spanish culture, a flamenco dinner show.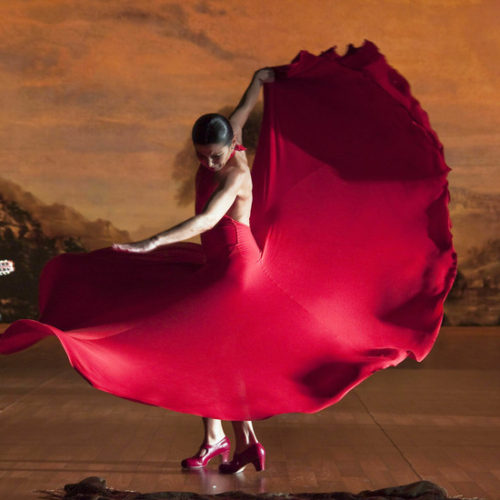 School exchange in Zaragoza
DAY 2: MADRID | ZARAGOZA
¡Bienvenidos a España! A Forum Representative will greet you at the airport and help you board your private bus to Zaragoza.

Upon arrival in Zaragoza, meet your host families and your exchange partners.

Start your exchange program. While living with a host family, you'll be fully immersed in the Spanish lifestyle as you attend school with your exchange partner and experience life as a true local.

Spend your first evening getting to know your host family.
DAY 3 – 4: EXCHANGE PROGRAM
Attend school with your exchange partner.

Activities and workshops may be organized at the school during your visit (to be confirmed with the Spanish school).
DAY 5 – 6: WEEKEND WITH HOST FAMILY
Spend the weekend with your exchange partner and host family.
DAYS 7 – 8: EXCHANGE PROGRAM
Attend school with your exchange partner. Activities and workshops may be organized at the school during your visit.
DAY 9: ZARAGOZA | MADRID
This morning, say a fond "¡Adiós!" to your exchange partners and host families before boarding your private bus to Madrid.

Upon arrival, follow your Forum Tour Manager on a walking tour of Madrid. Discover the Plaza de España and its Cervantes monument, the Puerta del Sol, the lively Gran Vía, and the trendy Calle de Alcalá.

Walk to the charming Plaza de la Villa, the heart of "Madrid de los Austrias," which includes the 16th century palace, Casa de Cisneros, and the Casa de la Villa, designed by Juan Gómez de Mora in the 17th century.

Then, enjoy some free time for lunch in the 350-acre Parque del Retiro, Madrid's largest park originally intended as a playground for royalty.

In the afternoon, take a guided tour of the Museo Nacional del Prado. Admire the masterpieces by El Greco, Goya and Velázquez, including Las Meninas.

Enjoy a traditional madrileño dinner in the city center.

Night accommodation in Madrid.
DAY 10: DAY TRIP TO TOLEDO
This morning, after breakfast at your hotel, take the train to Toledo, Spain's medieval capital. The history of Toledo dates back to the Roman occupation (Toletum) circa 192 BCE, and the ruins of the Roman circus are still visible just outside the walls of the city.

Meet your local guide for a walking tour through the impressive historic quarter that still has the same layout as it had in the Middle Ages.

Enter Toledo's monumental Cathedral, the spiritual heart of the Spanish Church.

After some free time for lunch, try the Toledo Zipline, the longest urban zipline in Europe, for a unique view of the walled city.

In the evening, return to Madrid to enjoy the sounds and colors of Spain at a Flamenco dinner show.
DAY 11: DEPART
Today, transfer to the airport by private bus and board your return flight home.
What's included
All-inclusive pricing makes it easy for teachers,
parents, and students. This trip includes:
Private group tour
Expert local guides

24-hour
emergency support
Personalized itinerary
Exclusive school-exchange program
Comprehensive
Travel insurance
Tour Manager 100%
dedicated to your group
Authentic meals
Airfare & ground
transportation
What our teachers are saying

Overall the trip was great. The students loved España and really enjoyed living la vida española. The host teachers were great.
Need some guidance?
Our tour experts love helping teachers. They're here to listen to your ideas, create the perfect itinerary for your group, and guide you in every step of the process.