Student perspective: Host families
Last year, Ben traveled with Forum on a school exchange to France. As one of our 2019 featured student bloggers, we invited him to share what it's really like to live with a host family in France for nine days. 
Guest Blogger: Ben C.
I sat in the international terminal of Boston Airport, nervously awaiting to board my flight to France.
As part of my high school's 12-day group exchange program in Rennes, I was about to fly to a foreign country to live with a family whom I had never met before. While a scary thought at first, living with a host family and engaging in their day-to-day life turned out to be the best part of my time in France.
Based on my experience, I'm here to dispel some typical fears about living with a host family.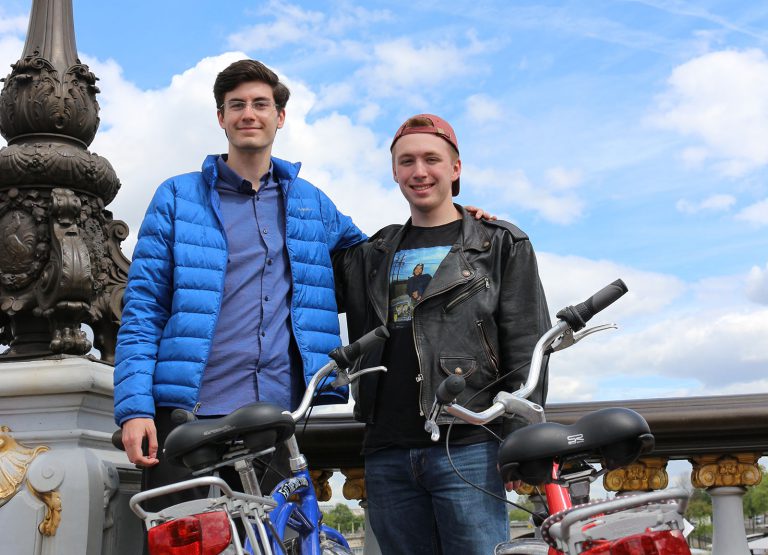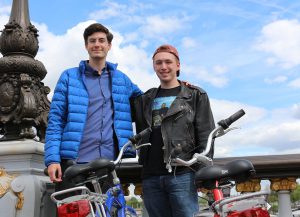 Fear #1: It will be awkward living with a family I've never met before!
Reality: You're staying in the home of people whom you may have never have met before and who might not speak English, so, yes, it may feel strange at first. However, by the second day neither I nor any of my classmates reported feeling awkward in our host families' homes.
My host family immediately made me feel welcome. As soon as I walked in the door, my host mom showed me around the house, identifying each room, naming each pet, and opening their large refrigerator with a grand wave of the hand that meant I was welcome to everything.
Once my host dad walked in, he immediately addressed a matter of great importance: how to operate the TV remote. The house was full when my older host brother arrived home. We sat around the living room table eating a snack. They asked me questions, I asked them questions, they had their own side conversations that I could listen to, and it all felt natural. I slipped right into the family circle effortlessly—there was even extra room on the couch for me!
In those initial moments, my host family may have felt a little awkward too, but those feelings quickly went away for both of us. In reality, these weren't random families signing up to let a stranger live with them for two weeks; they had been chosen as host families because they were considerate, open-minded, and kind, just as my family was when hosting my exchange partner.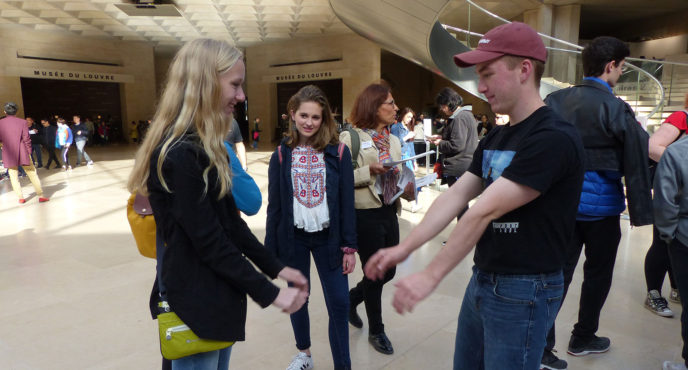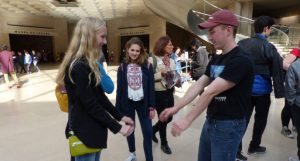 Fear #2: I don't speak the language well enough—we'll never understand each other!
Reality: Your host family knows that you will not be fluent. When speaking, they will usually slow down, simplify their sentence structure, and use smaller words. Why? Because they want to be understood just as much as you want to understand them!
Also, never underestimate the power of gestures and body language—you'd be surprised by how much you can communicate equipped with those alone.
One night, when I was eating dinner with my host family, the father told my host brothers not to "bouffer." I had no idea what "bouffer" meant, so I repeated back in an uncertain tone, "bouffer?" My exchange partner grinned, took a big bite of duck, and started obnoxiously talking while opening and shutting his mouth as quickly as possible. We all had a good laugh, and I still remember that word, even though I only used it that one time.
That's another thing: when you learn a word in a situation like that, you're much more likely to remember it than if you had read it on a flashcard. The taste of the duck I had that night, the jokes we told around the table, the cool night air coming in through the window—all those sensations cemented in my mind the words I was learning. In the two weeks that I spent listening to my host family and trying out my French with them, I learned more than I had learned all year in the classroom.
If the idea of living with a host family still unnerves you, consider this: great things were never accomplished inside people's comfort zones. Having a few awkward moments is an inevitable part of any great travel experience abroad. Living with a host family while still in high school is truly a once-in-a-lifetime opportunity and one that I would gladly do all over again.
If you truly want to get out and see the world, this is your chance. Go for it! You´ll be glad you did.