Student perspective: Spanish exchange
Last year, Belle traveled with Forum to Spain on a school exchange. As one of our 2019 featured student bloggers, Belle shares how she developed lasting bonds with her exchange partner and other Spanish students.
Guest Blogger: Belle D.
Starting the Program
At the beginning of my junior year of high school, I, along with 15 of my classmates, eagerly awaited to receive my Spanish exchange partner assignment. We all grouped together to send our first emails, quickly switching to Whatsapp when our contact information had been exchanged. Each of us had filled out a profile form to share with our partner, but the few questions we answered about our favorite book genres and what sports we played hardly gave the full scope of who we, or our partners, were.
Talking to María
I began texting with my partner, María, on Whatsapp almost immediately. We chatted most days before the program, talking about our likes and dislikes, plans for when we met, what our friends were like, and the differences in what was "normal" for us in our respective countries. María shared that her favorite activities were going out with friends and doing makeup; two things that I also love. I could tell that we were different types of people – María was much more extroverted and not as fiercely alternative as me in terms of dress, music and sense of humor. But despite what might have looked like major differences, we got along, and I was excited to meet her. I hoped that we would connect well in person.
Finally Meeting!
Some of my classmates had a lot of trepidation about meeting their Spanish exchange partners, but when the students arrived to the US from Córdoba, utterly exhausted, everyone was smiling. María was as dead tired as everyone else, but in the car, we bonded over music and talked about my hometown, San Francisco.
In San Francisco
Over the next few weeks María and I became fast friends. Neither of us was completely fluent in the other language, but for the most part we had no trouble getting our points across. We shared earbuds on the bus while we alternated music choices, jumped on the trampoline at my house, Facetimed our friends, and chatted in both Spanish and English. Despite my lack of talent or coordination, María also did her best to teach me some dances popular in Spain.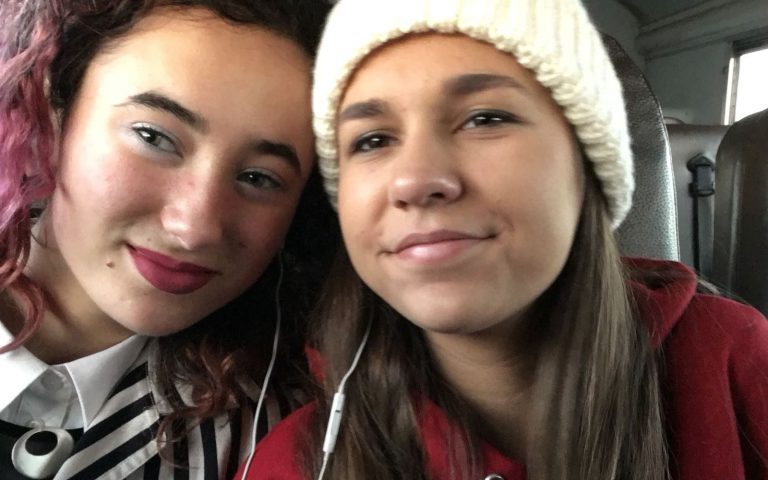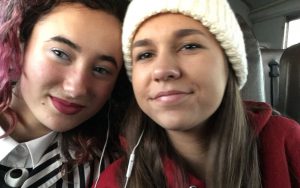 Arriving in Córdoba
When María left, we stayed in contact, already planning for when I would come visit her in Córdoba during the spring. She sent me songs to listen to, so I would know them at the dance parties in Spain. At long last, it was so great to see her again when we arrived in Córdoba, as tired and jet lagged as our exchange partners had been on their first day in San Francisco.
In Spain
We spent much of our time in big groups with almost everyone from both schools, but I had just as much fun at home with María. We listened to more music and watched videos — our conversations flowing naturally. I still have the video of the disastrous time when she tried to teach me how to play tennis – shockingly, it turns out that brandishing the racket like a club with both hands doesn't lead to great accuracy.
Leaving
I was really happy to discover that I got along with many of the Spanish kids, not just María. I befriended her friends and had a ton of fun staying out late with them at the dance party. I also became close with another girl, Lucia, because of our shared long-term obsession with Harry Potter. It was sad to board our final bus out of Córdoba, but when it was time to leave, I had the bittersweet realization that I was saying goodbye to a big group of friends.