Immerse yourself in the Spanish culture through an school exchange in Bilbao along with a tour of Madrid and San Sebastián. Visit the cities' most famous monuments such as the Prado museum and Parque del Retiro in Madrid, La Concha beach and Plaza de la Constitución in San Sebastián, and the Guggenheim museum in Bilbao. Plus, enjoy some adventure through a ride on a cable car, a scavenger hunt, and a flamenco dinner show.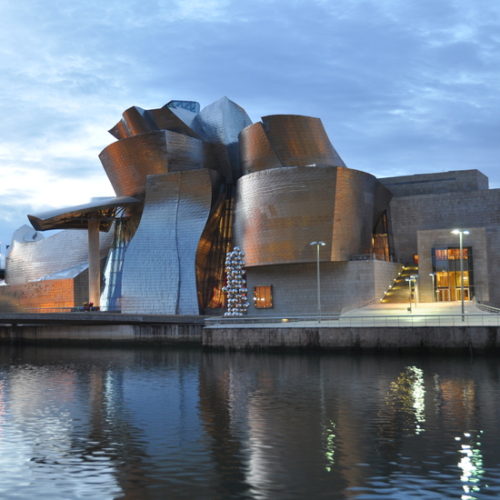 School Exchange in Bilbao
DAY 2: MADRID
¡Bienvenidos a España! Your Forum Tour Manager will greet you at the airport and help you transfer to your hotel to check in, drop off your luggage and freshen up.

Follow your Forum Tour Manager on a walking tour of Madrid. Discover the Plaza de España, the Puerta del Sol, the lively Gran Vía, and the trendy calle de Alcalá.

For dinner, enjoy an authentic surtido de tapas (variety of small plates).

Night accommodation in Madrid.
DAY 3: MADRID
Today after breakfast, take a guided tour of the Museo Nacional del Prado, where you´ll admire masterpieces by Goya and Velázquez, including Las Meninas.

Have free time for lunch in the beautiful Parque del Retiro. Explore the 350-acre park, initially intended as a playground for royalty.

Later, snack like a madrileño with some churros con chocolate!

Then, head to the iconic Plaza Mayor and discover the secrets of Old Madrid by participating in a scavenger hunt.

In the evening, immerse yourself in the colors and sounds of Spain during a flamenco dinner show.
DAY 4: MADRID | BILBAO
After breakfast, say farewell to your Forum Tour Manager and board your private bus to Bilbao in Basque Country, Spain.

Upon arrival, meet your exchange partners and host families. While living with a host family, you will discover that Spanish is more than just a textbook language as you fully immerse into the daily life of your family and school community.

Spend your first evening with your host family.
DAY 5: EXCHANGE PROGRAM
Attend school with your exchange partner. Activities and workshops may be organized at the school during your visit (to be confirmed with the Spanish school).

Dinner and night accommodation with your host family.
DAY 6: DAY TRIP TO SAN SEBASTIÁN
After breakfast, meet your Spanish Forum Tour Manager at school and board your private bus to the coastal oasis of San Sebastián.

On arrival, head to La Concha beach, considered to be one of the most beautiful beaches in Spain. See Miramar Palace on your way to El Antiguo neighborhood and Ondarreta Beach.

As you reach the end of your walk along the beaches, at the foot of Monte Igueldo, you will see the Peine del Viento (Wind Comb). This sculpture, by Eduardo Chillida, is a symbol of San Sebastián and marks one of its most beautiful viewpoints.

After, hop on the Monte Igueldo funicular and ride up the mountain for unbeatable views of the city.

Have some free time for lunch and to discover the Old Town at your own pace. Try the celebrated "pintxos," a Basque take on tapas before seeing the Plaza de la Constitución, the Iglesia de Santa María and the Iglesia de San Vicente.

Return to Bilbao for dinner and night accommodation with your host family.
DAY 7: EXCHANGE & BILBAO TOUR
Attend school with your exchange partner.

After lunch at school, your tour guide will meet you and take you on a sightseeing tour of Bilbao.

Visit the iconic Guggenheim Museum designed by architect Frank Gehry.

Then, stroll through the Old Quarter and admire the city's most important landmarks including Santiago's Cathedral and Plaza Nueva.

Return to your host family for dinner and night accommodation.
DAY 8 & 9: EXCHANGE PROGRAM
After breakfast at home, attend school with your exchange partner.

Return to your host family for dinner and night accommodation.
DAY 10: RETURN
After breakfast, say a fond "¡adiós!" to your host family and exchange partner, then transfer to the airport for your return flight home.
What's included
All-inclusive pricing makes it easy for teachers,
parents, and students. This trip includes:
Private group tour
Expert local guides

24-hour
emergency support
Personalized itinerary
Exclusive school-exchange program
Comprehensive
Travel insurance
Tour Manager 100%
dedicated to your group
Authentic meals
Airfare & ground
transportation
What our teachers are saying

We had a wonderful time and would love to do another exchange next school year!
Need some guidance?
Our tour experts love helping teachers. They're here to listen to your ideas, create the perfect itinerary for your group, and guide you in every step of the process.